Basil, Chicken, and Tomatoes
Sunday, April 30th, 2017
Similar to a Caprese salad, this is a simple recipe that can be done with leftovers, or as a main meal. It's quick and simple, so you can make it after a quick visit to Niagara Produce after work! Try it and see the delicious results for yourself!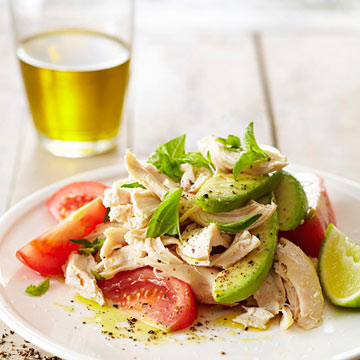 Ingredients:
4 large tomatoes
1 deli-roasted chicken
1 avocado, halved, peeled, and sliced
1/4 cup olive oil
1 lime (cut to be used for lime juice)
1/2 cup fresh basil leaves
Salt and pepper to taste
Instructions:
1. Cut tomatoes into wedges. Use forks to pull chicken meat from bones and shred into large pieces. Discard bones and skin (or use for soup!)
2. Separate tomatoes onto 4 dinner plates, then pile chicken and avocado slices on top. Drizzle with olive oil, and squeeze lime juice over top.
3. Sprinkle with basil, salt, and pepper.
Hat tip to Midwest Living for the recipe and image!