Cilantro Chili Lime Glazed Salmon on Green Beans
Sunday, May 14th, 2017
Every time I eat salmon, I remember that I should be eating more salmon! This recipe has slightly more ingredients than usual, and it has a few more steps, but the end result is a pro-level fish that will impress anyone! That's why Cilantro Chili Lime Glazed Salmon on Green Beans is our May Recipe of the Month!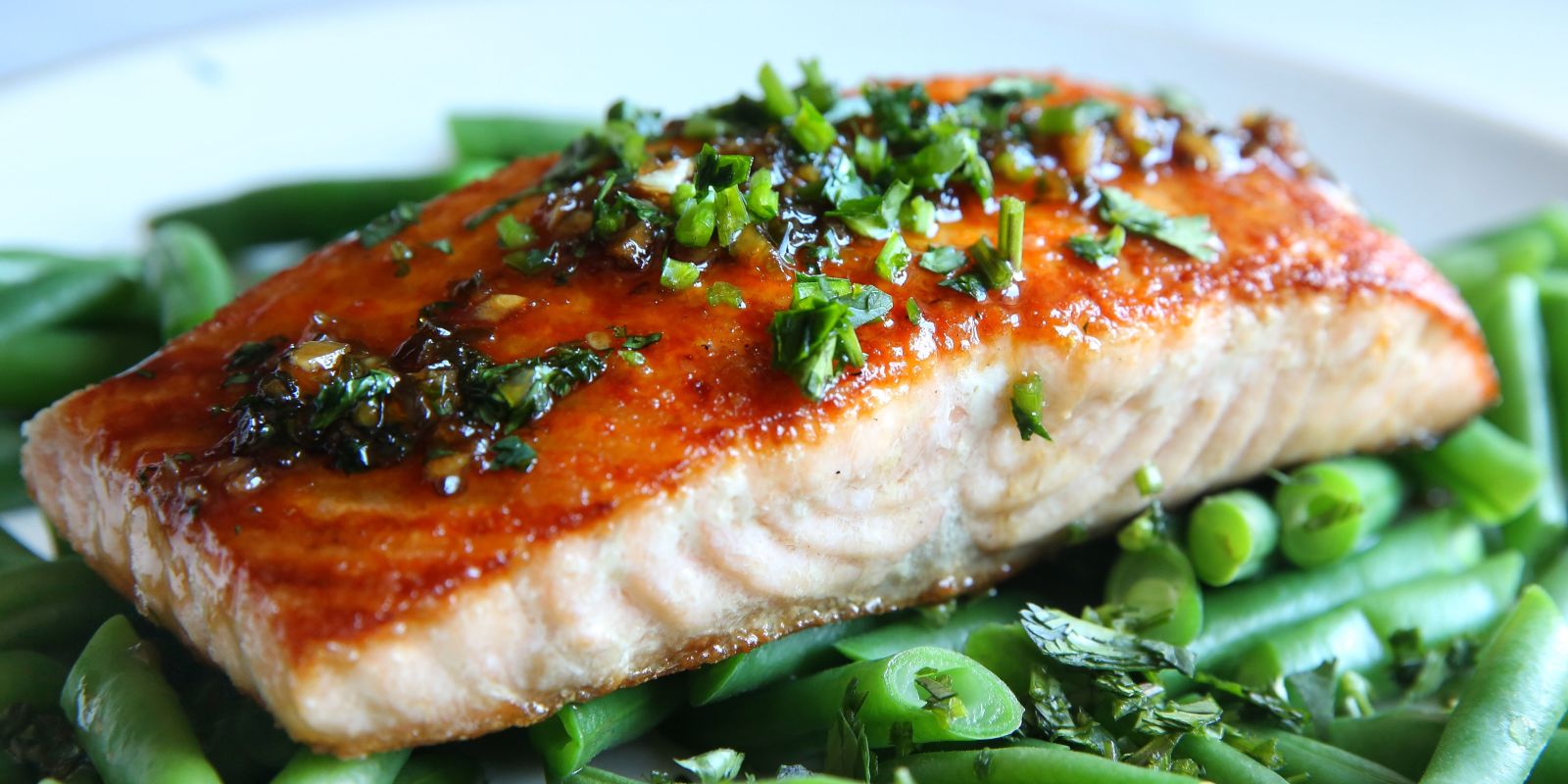 Thanks to Delish for the image and idea.
Ingredients:
4 pieces of salmon (~2lbs)
3 tbsp extra virgin olive oil
2 tsp minced garlic
1 jalapeno, minced
4 limes, for juice
3 tbsp brown sugar
1lb green beans, cut in 2 inch pieces
1/4 cup cilantro, chopped
Salt and pepper
Instructions:
1. Season salmon with salt and pepper, set aside
2. In a small sauce pan on medium-low heat, add olive oil, garlic, jalapeno, and 1 tsp of salt. Saute for 2 minutes until garlic has softened.
3. Add lime juice and brown sugar and stir constantly. Once sauce begins to bubble, reduce heat to low. Stir until sauce turns into a thin glaze (~6mins). Remove from heat and set aside.
4. Preheat a large cast iron skillet over high heat. Heat 1 tbsp olive oil until very hot, almost smoking. Sear salmon on each side for 4 minutes. Transfer salmon to a plate and let it rest.
5. In large skillet, bring 1/4 cup water and 1tsp salt to a boil. Add green beans, cover and cook until beans are tender (~4-5mins). Drain excess water.
6. Reheat glaze on low and add cilantro. Serve salmon on bed of green beans with glaze spooned over top.