Curried Egg Salad Sandwich
Monday, January 23rd, 2017
It's a new year, which means a good time to start new habits to better your life! Two great New Years resolutions are to eat healthier, and to start bringing lunch to work to save money. To help with both plans, you can use this recipe for a curried egg salad sandwich!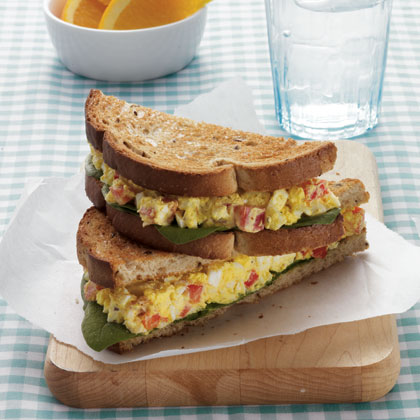 Ingredients:
2 hard-boiled eggs, chopped
2 tbsp plain Greek yogurt
2 tbsp chopped red bell pepper
1/4 tsp curry powder
1/8 tsp salt
1/8 tsp pepper
2 slices of our own rye bread, toasted
1/2 cup spinach
Instructions:
1. Combine eggs, Greek yogurt, bell pepper, curry powder, and salt and pepper, into a small bowl. Stir well.
2. Place spinach on rye bread, add egg salad, and add the other piece of rye bread on top.
That's it! It's a healthier version of egg salad, packed with vitamins and minerals and filling protein. Is it something you would make?
Thank you to health.com for the recipe and image