Dutch Baby / German Pancakes
Thursday, May 23rd, 2019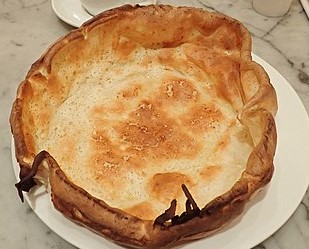 These are versatile enough to be eaten for breakfast, lunch, dinner or even dessert! Make them your own by adding different toppings such as sugar or fruit, and enjoy! They are also simple to make in 3 quick steps, and you probably have all of the ingredients in your house right now! Go try it!
Ingredients:
4 eggs
1 tbsp sugar
1/2 tsp salt
2/3 cup flour, sifted
2/3 cup milk
2 tbsp butter (room temperature)
Instructions:
1. Preheat oven to 400°F and butter two cake pans.
2. Beat eggs until light yellow. Add remaining ingredients and mix well.
3. Pour into cake pans and bake 20 minutes, then reduce heat to 350°F and bake 10 more minutes, then serve!