Moroccan Chicken with Green Olives and Lemon
Wednesday, October 18th, 2017
Moroccan chicken is a fun dish with a unique flavor, with spices and olives and lemons working together to provide a delicious meal for the whole family!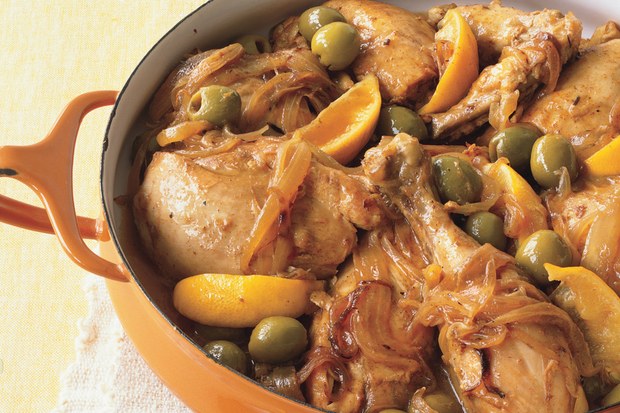 Thanks to epicurious for the image and recipe idea.
Ingredients
2 lemons, one cut into 8 wedges
1 tbsp olive oil
1 large onion, halved, thinly sliced
2 garlic cloves, pressed
1 tbsp paprika
2 tsp ground cumin
1 tsp ground cinnamon
1 tsp ground ginger
2 cups low-salt chicken broth
4 1/2 pounds of chicken, cut into 8 pieces, skinless or skin removed
1/2 cup green olives
Salt and pepper to taste
Instructions
1. Heat oil in large skillet over medium-high heat. Add onion, salt, and pepper, saute until golden brown (~8mins).
2. Add garlic, paprika, cumin, cinnamon, and ginger and stir for 1 minute. Add broth and bring to a boil.
3. Sprinkle chicken with salt and pepper, add to skillet. Add lemon wedges, cover, and reduce heat to medium low. Simmer until chicken is cooked through (25-30mins), turning occasionally.
4. Transfer chicken to platter. Add olives and juice squeezed from the remaining lemon, to skillet. Increase heat to high. Boil uncovered for about 5 minutes to thicken the sauce. Season with salt and pepper to taste.
5. Pour sauce over chicken and serve. Enjoy!