Pumpkin and Potato Gratin
Saturday, October 15th, 2016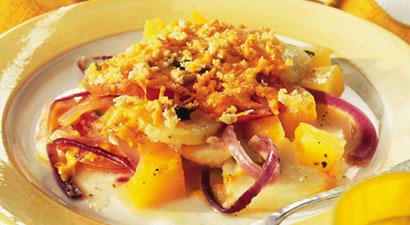 Image and recipe from rd.com
"Gratin" gets its name from the delicious crispy crunch of cheese on top. It's named after the "upper crust" in France at the time it was invented. This gratin combines that delicious cheese crust with the fall flavors of pumpkins and apple cider. It creates a great flavor combination that warms your heart!
Ingredients:
1 pound small potatoes, halved
1 1/2 pounds pumpkin
1/2 cup apple cider
10 ounces vegetable broth
1 tsp rosemary
1 large red onion, halved and thinly sliced
3 beefsteak tomatoes, thickly sliced
2 tsp oregano
1/2 cup grated Parmesan cheese
1 cup fresh white bread crumbs
Salt and pepper
Instructions
1. Preheat oven to 350°F. Fill a medium saucepan with water and add potatoes. Bring to a boil and cook until tender (~15-20mins). Drain.
2. In a large saucepan, combine pumpkin, cider, rosemary, and broth. Bring to a boil and simmer for 15 minutes. Add onion and cook for 10 more minutes. Add salt and pepper to taste.
3. Slice potatoes and arrange half of them on the bottom of a baking dish. Lay half of the tomato slices on the potatoes and sprinkle salt, pepper, half of the oregano, and half of the cheese on top.
4. Spoon cooked pumpkin on top, adding all of the cooking liquid. Top with the remaining potatoes, tomatoes, and oregano. Mix remaining cheese with bread crumbs and sprinkle that mixture on top.
5. Bake gratin until topping is crisp and golden brown (~35-40mins).
That's it! Enjoy! Let us know what you think!