Recipe of the Month - MARCH!
Sunday, March 3rd, 2013
Crispy Potato Skins!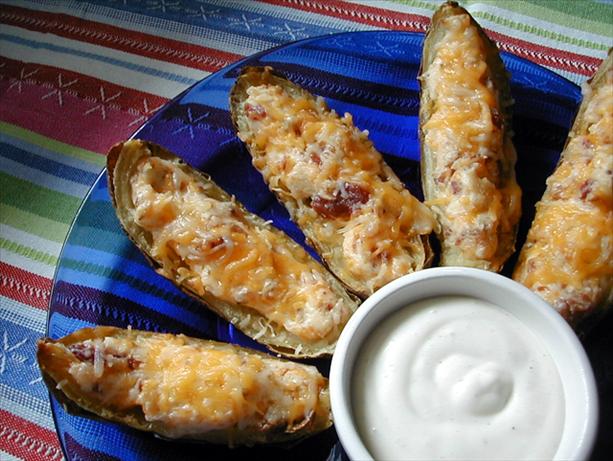 Photo and recipe from food.com. Crispy Potato Skins 4 baked potatoes (cooled) 4 oz cream cheese 6 slices of bacon, cooked crisply and crumbled into bits 3/4 cup cheddar cheese, shredded 1 tsp red pepper flakes 1. Pre-heat oven to 400°F. Cut potatoes into quarters lengthwise. Scoop out center, leaving 1/2 inch of flesh. 2. Combine cream cheese, cheddar, crumbled bacon bits, and pepper flakes until blended. Press onto skins. 3. Bake for 15 minutes. Switch to broil and toast tops for another 3 minutes, or until lightly browned. ----- This is a quick recipe with only the basic ingredients, but there are plenty of variations on potato skins. Here's one with mustard, garlic, and chives. This one is explicitly a vegetarian option, though most of these are vegetarian if you just avoid the bacon. Gouda and green
onions highlight this recipe. The lesson we can learn here is that really, the ingredients are up to what you find tasty. Play around, even within the same batch. Add hot peppers, or barbecue sauce, or heck, anything you can think of!