Recipe of the Month - October 2013
Tuesday, October 1st, 2013
Roasted Pumpkin Seeds! Pumpkins are a classic squash of October. We'll be making them into jack-o'-lanterns, painting them, dressing up like them, and eating them. Far too many people cut open the pumpkin and throw away the seeds. They are a delicious treat! The seeds are also very easy to make, and you can add your own spin with different flavors too!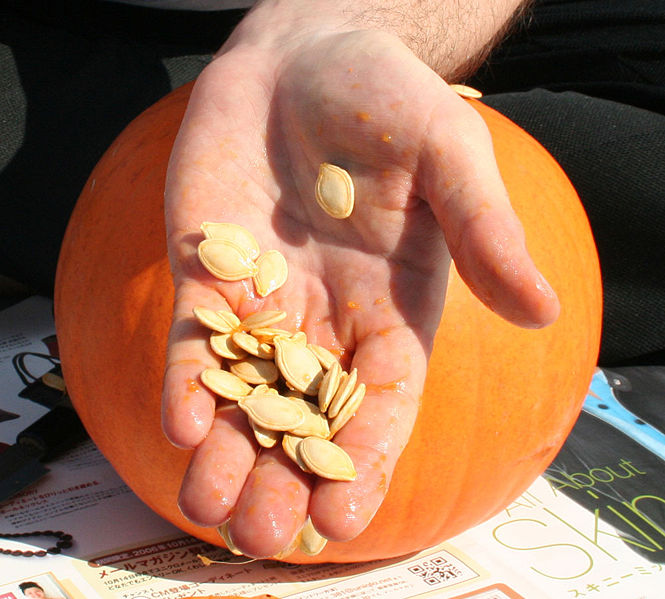 Roasted Pumpkin Seeds
1 medium-sized pumpkin 1 tbsp olive oil Salt 1. Cut open pumpkin, scrape out pulp, and separate seeds into saucepan. Preheat oven to 400°. 2. Add 2 cups of water and 1 tbsp salt to pan for every 1/2 cup of pumpkin seeds. Bring mixture to boil. Let simmer for 10 minutes. Remove from heat and drain. 3. Coat bottom of roasting pan with olive oil. Spread seeds in a single layer. Bake until they begin to brown (5-20 minutes). Cool and eat. ---- There are so many opportunities to try variations on this simple recipe. One I just tried was the same recipe but with the seeds of an acorn squash. It worked great! Some other ideas: Pumpkin seeds with Worcestershire sauce. Sweet with cinnamon and sugar instead of salt, Italian-style with Parmesan cheese and dried oregano, or BBQ with brown sugar, chile powder, and ground cumin, among other ideas here. Caramelized spicy, for those who are daring enough. Your thoughts? Please reach out to us with questions or comments, or pictures of yourself enjoying the pumpkin seeds. We'll add any original ways to enjoy pumpkin seeds too, if you have one! Tweet @niagaraproduce or post a message on Facebook!