Vegan Roasted Cauliflower Soup
Tuesday, March 28th, 2017
Roasted vegetables, pureed into a smooth soup. It's a simple concept, but a sneakily good one. This may be the recipe that gets your picky eater to eat cauliflower! Try it out and let us know in the comments!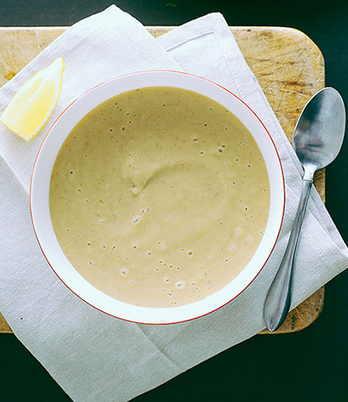 Ingredients:
1 medium head of cauliflower
1 pound of potatoes, scrubbed
2 large cooking onions
2 tbsp oil
2 tsp lemon juice
6 cups vegetable stock
1/2 tsp dried rosemary, or one sprig of fresh
salt and pepper to taste
Instructions:
1. Preheat oven to 400F
2. Remove the core of the cauliflower and chop it into rough florets. Place them into a glass baking dish.
3. Chop potatoes into pieces about half the size of the cauliflower. Chop onions into rough 1-2 inch pieces. Add potatoes, onions, rosemary, salt, pepper, and oil into the baking dish, and toss so everything is coated.
4. Roast vegetables for an hour, flipping as necessary. Remove from oven and sprinkle lemon juice over vegetables. Once cool, puree vegetables with vegetable stock until smooth, and pour into a soup pot.
5. Heat soup until it boils. Serve hot.
Thanks to thefirstmess.com for the image and recipe.