Zucchini Fritters
Wednesday, June 15th, 2016
Zucchini Fritters are easy to make, healthy, and you can make them with our homegrown zucchini for that local flavor!
Ingredients:
1 1/2 pounds zucchini, grated
1 teaspoon salt
1/4 cup all-purpose flour
1/4 cup grated Parmesan
2 cloves garlic, minced
1 large egg, beaten
Kosher salt and freshly ground black pepper, to taste
2 tablespoons olive oil
Instructions:
Put grated zucchini in a colander over the sink. Add salt and toss to combine. Let zucchini sit for 10 minutes. Squeeze as much water as possible out of the zucchini with a kitchen towel.
In a large bowl, combine zucchini, flour, Parmesan, garlic, and egg. Add salt and pepper to taste.
Heat oil in large skillet over medium-high heat. Scoop tablespoons of batter into skillet, flattening with a spatula. Cook until golden brown (~2mins) and flip to cook the other side. Eat immediately!
Still have zucchini left? You could also try a Garlic Parmesan Zucchini Bake!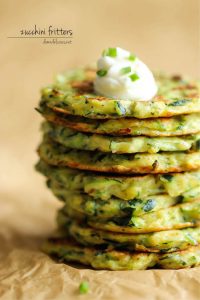 Photo and recipe courtesy of DamnDelicious.net